model by Sven Ornberg
text by Martin Waligorski
This is a 1/25 1937 Ford Pickup truck built from Revell/Monogram kit by Sven Ornberg.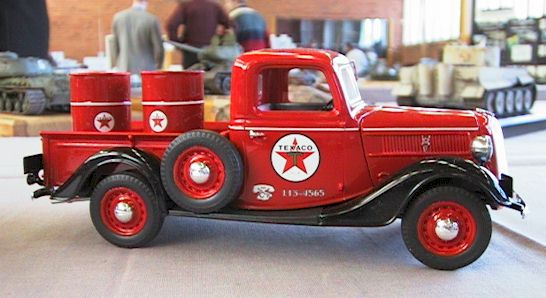 "Number One for 1937!" was Ford's slogan for the 1937 pickup truck. After twenty years of truck production, the Ford Motor Company lived up to the claim, the sales of the new Ford Truck had beating out the competition hands down. The post-depression public obviously loved the '37 Ford Trucks and it's easy to see why, considering the multitude of improvements inside and out.
All 1937 Ford cars and trucks came with a V-8 engine.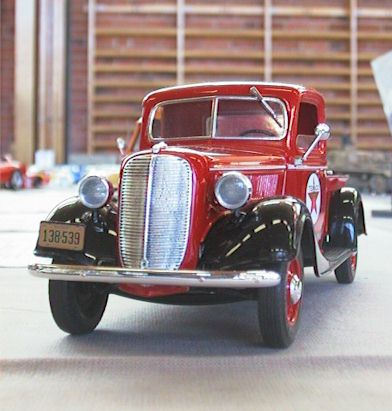 The traditional Ford V-8 engine received a redesigned block, crankshaft and heads, a modification which proved very successful. Additionally, Ford introduced a smaller 60 HP V-8 designed to appeal to the economy minded buyers.
The sheet metal on the 1937 model was a development of the 1935-36 theme. For the first time, all 1937 Ford vehicles sported a Vee windshield. Most trucks shared a 112 inch wheelbase frame, the same as 1935 and 1936. The fenders, running boards and headlights were also the same, but the cowl was modified to fit the split windshield and the grille was restyled. The pickup truck bed was 4 inches longer than previous models.
Two levels of trim were available on 1937 trucks. The standard model had a single windshield wiper, painted windshield frame, single horn and a grille with a painted center portion. The deluxe version had two windshield wipers, two chrome horns, chrome windshield frame, stainless steel trim around the hood louvers and a chrome center portion of the grille.
The Revell/Monogram kit contained a total of 109 pieces moulded in white, clear, and transparent red plastic. There is a sprue with chrome plated parts and black vinyl tires. Released in 1997, the kit goes together well with only a minimum of fuss.
Sven finished the model in the striking red Texaco livery. This model has received the Highly Commended prize at the latest Swedish IPMS Nationals.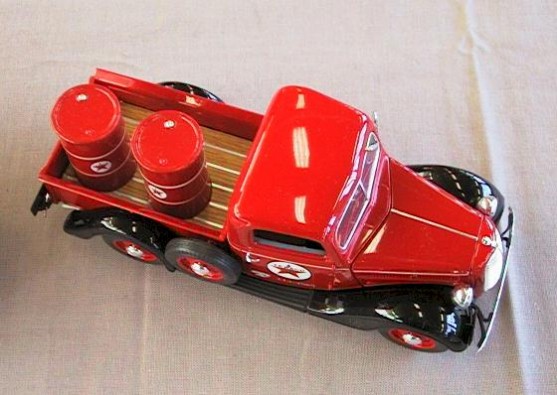 This article was originally published in IPMS Stockholm Magazine in April 2002.