Registration for Modellexpo 08-Open 2013
For participants
Modellexpo 08-Open 2013 will be held on 6–7 April in Skytteholmsskolan in Solna outside Stockholm.
Participation in the contest is open to the public, not only IPMS members.
Registration
You must register yourself and your models to participate in the contest.
Fill in the registration form for every model that you plan to participate with. You can register more models than you eventually bring. There is no extra cost per model, so enroll those you believe you will complete.
Your registration should be entered no later than Friday, March 27 2013. There will be no registration during the contest.
Registration fee
At registration you should pay the registration fee to the account of IPMS Stockholm (IBAN: SE60 9500 0099 6034 0306 3609, BIC: NDEASESS). Write IPMS Open 2013 on your payment.
If you pay late you will be requested to show the receipt or equivalent.
Payment can also be done during the check-in of the models on the first day of the contest.
Registration fee (any number of models):
IPMS members
Senior: 70 kr
Youth (up to and incl 17): 40 kr
Junior (up to and incl 14): Free
Non IPMS members
Senior: 140 kr
Youth (up to and incl 17 years): 80 kr
Junior (up to and incl 14 years): Free
Models can be checked-in Saturday April 6, 10:00–11:30. Do not wait until the last moment, please be there on time.
Entrance fee 50 SEK, youth up to 15 years free
Contestants enter for free.
Closing of the exhibition
Models may not be removed before 15:30 Sunday, April 7, but should be removed as soon as possible after that and not later than 17:00.
If you have any questions, please contact: open2013@ipmsstockholm.se.
Getting there
Skytteholmsskolan is situated next to Skytteholm sports ground. The street address is Ankdammsgatan 14–16.
If traveling via public transport, take the blue underground line to Solna centrum, exit Centralvägen (bussterminal) and turn right when you exit the underground. Cross (below) Huvudstagatan and continue across the field to the gymnasium (the red brick building on your left).
Those travelling by car, follow the signs from E4 toward Solna, and thererafter Solna C.
Coming from the south: On Huvudstagatan, turn left at Ankdammsgatan.
Coming from the north: Follow Frösundaleden until the roundabout and then onto Ankdammsgatan, after that onto Nybodagatan.
Continue in on the parking place by the large brick buildings at the end of the road.
Map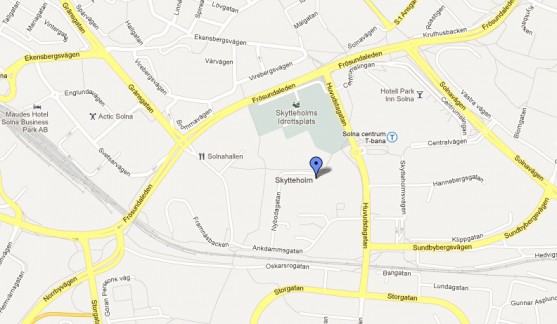 Show Modellexpo 08-Open on a larger map
Shopping
Hobby merchants from all over the country will be attending to supply your every need.
In the nearby shopping centre, Solna Centrum, there is plenty to see and shop and eat.
Dinner
A dinner will be arranged after the show on Saturday, in one the restaurants available within walking distance from the exhibition. More info will be available at the contest and you will be asked to sign up during Saturday.