photos by Phillip Treweek, Kiwi Aircraft Images
text by Martin Waligorski
The Curtiss P-40 is one of the best-known American fighters of World War II. Despite it's fame, it was not one of the period's best performers, outclassed in virtually every way by other fighters of its time.
Therefore, as more advanced aircraft became available to the Allies, the plane was relegated to ground support and other less vulnerable roles.
The full review of P-40 production variants and history can be found in the accompanying article Modeller's Guide to Curtiss P-40 Variants published in this issue, so there's no need to repeat it here. Instead, I'll rather add some words about P-40s servicing with Royal New Zealand Air Force, one of which is a subject of this photographic essay.
P-40 in New Zealand
In total, the RNZAF operated 297 Curtiss P-40s of various models (K,L,M,N) between 1942 and 1946. The aircraft were assigned to Nos. 14, 15, 16, 17, 18, 19 and 20 Fighter Squadrons, and No. 2 and 4 Fighter Operational Training Units. No. 14 through 19 Squadrons flew the Curtiss fighters in the Pacific, carrying out offensive and defensive fighter operations, bomber escort, and dive-bombing duties. Combat record of these units includes 99 confirmed and 14 probable 'kills' of Japanese aircraft in the air. A total of twenty P-40s were lost in combat, and a further 152 in accidents.
From 1944, the P-40 began to be replaced in front line duties by Vought F4U-1 Corsair . The remainder were sold for scrap in 1948.
As many as six ex-RNZAF P-40s survive until this day. One of them, NZ3009 is a subject of this walkaround.
The NZ3009 is a P-40E-1 and carried the manufacturer's serial number 19669, USAF serial 41-25158 and RAF serial ET 482. After the war it was first displayed at Museum Of Transport And Technology in Western Springs, Auckland. Recently it has been restored to flying condition, coming back to air in 1998.
Curtiss P-40E-1 in Detail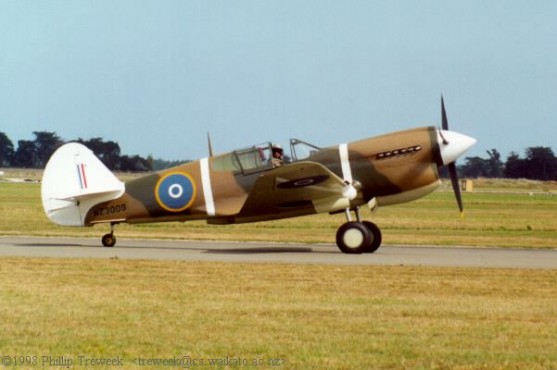 How it looks today.jpg (25389 bytes)
This is how NZ3009 looks today. This photograph was taken at its second public appearance in Ohakea, New Zealand.It is the only airworthy ex-RNZAF P-40E. Photo: Phillip Treweek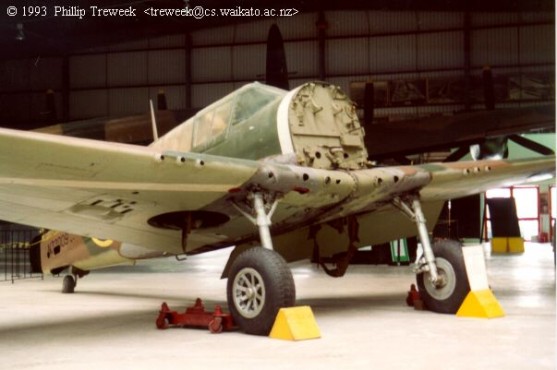 An interesting view of the same aircraft years ago at the Museum Of Transport And Technology. The entire nose up to the cockpit firewall is removed, together with wing undercarriage fairings. What's left is a good view of the wing-to-fuselage attachment and wing incidence angle.
Of note is also wheel hub detail (most aircraft is service carried circular covers hiding the spokes) and overall arrangement of the undercarriage struts and actuators, exposed here. Photo: Phillip Treweek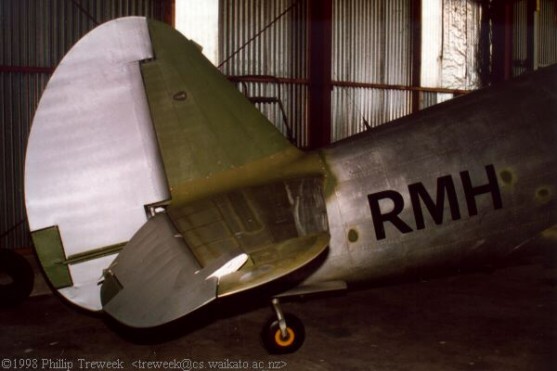 Tail surfaces. This shot has been taken in January 1998 before final painting was done to the otherwise completely restored aircraft. Photo: Phillip Treweek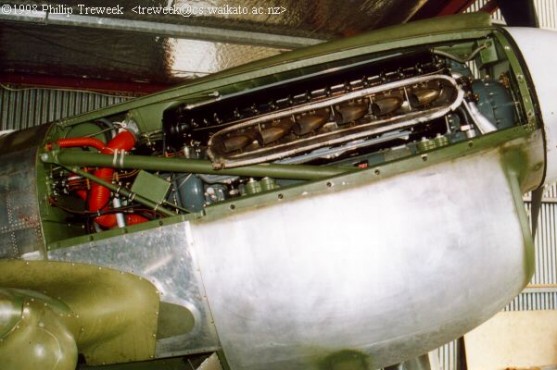 Starboard engine cover removed. This photo displays some detail of engine installation. Photo: Phillip Treweek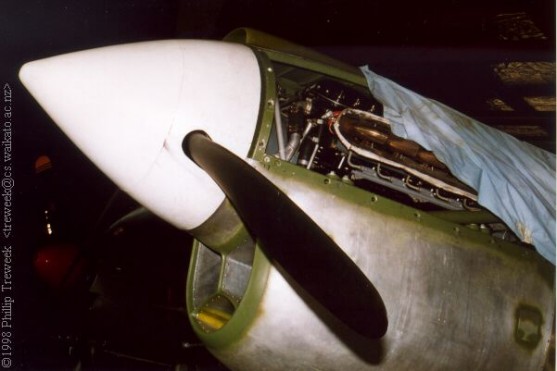 Not the best of exposures, but this photo shows the distinctive curvature of fighter's massive spinner to advantage. Photo: Phillip Treweek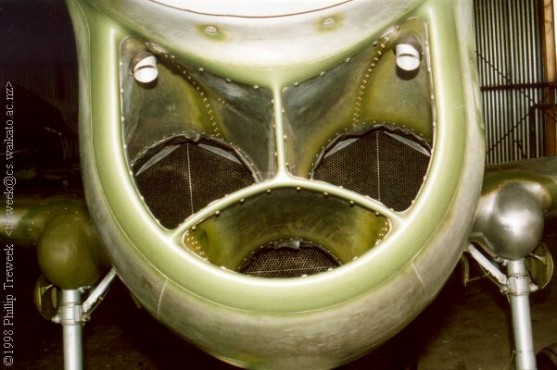 Head-on view of the massive chin intake shows three separate channels leading to separate circular coolers. Note the two vents in the upper corners of the intake. Photo: Phillip Treweek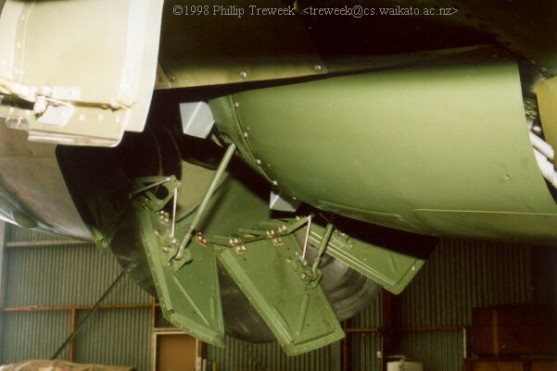 Engine cooling flaps fully open, seen from the rear. Note the flap actuators. Photo: Phillip Treweek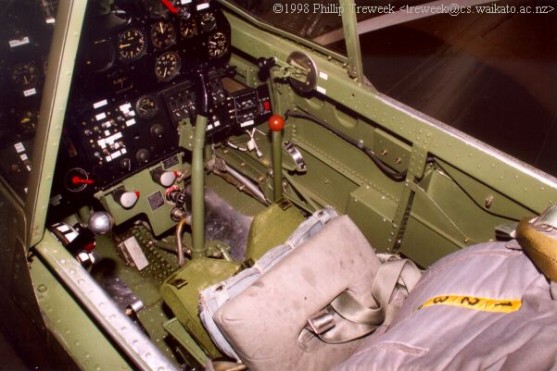 A glimpse into the cockpit. As this is a flyable warbird, the cockpit features a number of modern additions like extra instrument panels and seat cushioning. Photo: Phillip Treweek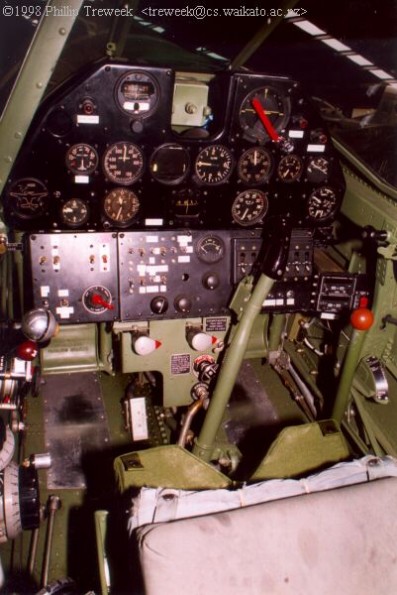 Instrument panel.jpg (24513 bytes)This instrument panel has been augmented with loads of modern equipment visible below the main panel. Photo: Phillip Treweek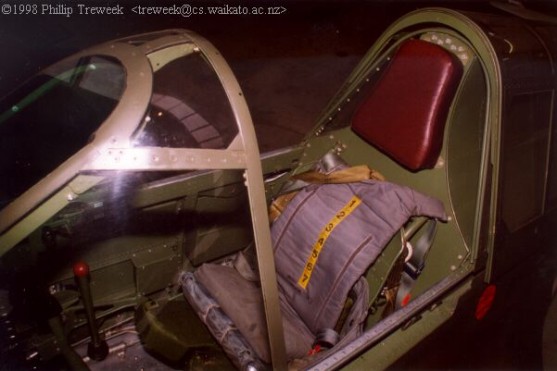 Pilot's seat and headrest. As mentioned before, the seat padding and harness are of modern standard, but the seat itself appears to be original. Photo: Phillip Treweek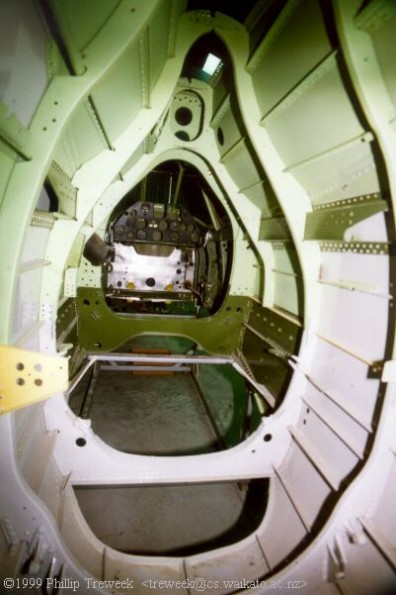 Looking forward into the fuselage from the inspection hatch on the port side behind the cockpit. This photo is of another aircraft, a P-40M no. NZ31119 under restoration in New Zealand.
Note that the pilot's seat is missing. Photo: Phillip Treweek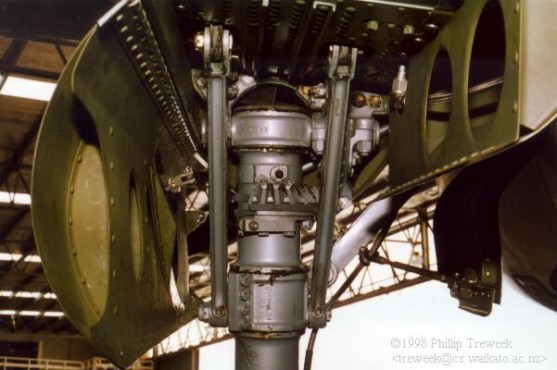 A glimpse from behind into the port wheel well shows the inner surface of undercarriage cover (visible to the left), main undercarriage leg mount and retracting mechanism – quite complex for it's time. Photo: Phillip Treweek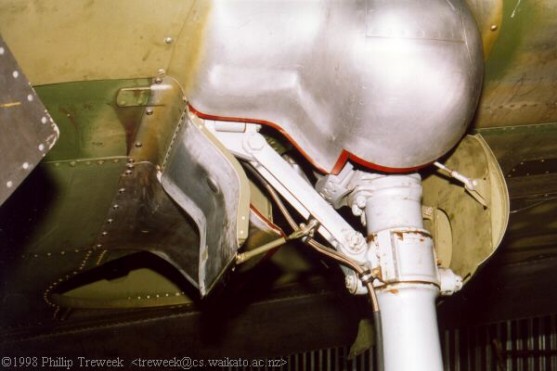 There were actually two undercarriage covers, the inner one serving the leg support strut shown here.
Of note is also the smoothly faired-in "knuckle" on the wing's leading edge. Photo: Phillip Treweek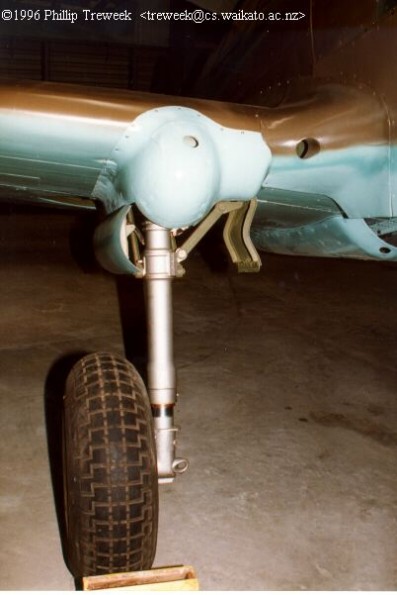 Front view of the starboard main undercarriage of another P-40E, NZ3039 displayed in Museum of Transport and Technology.
Photo: Phillip Treweek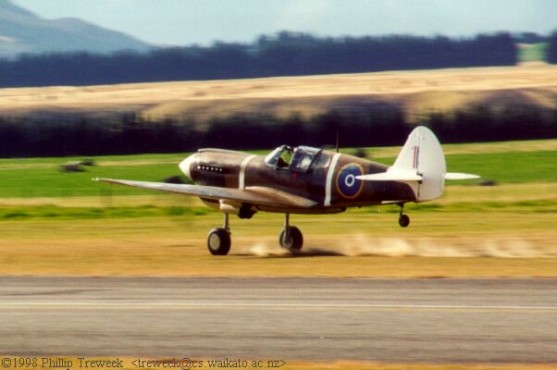 Taking off!
Photo: Phillip Treweek
This article was originally published in IPMS Stockholm Magazine in September 1999.